Company Picnic Games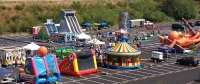 Whether you are planning a company picnic, holiday party, sales meeting, or promotional event, our corporate event specialists can help you and will provide you with top level customer service. Our game selection is endless, and we are able to provide custom entertainment options and games for all ages!
We offer the best inventory of entertainment performers, emcees, comedians and more. We can also offer the best inventory of entertainment game rentals such as inflatable games, arcades, casino entertainment options, and countless arcade games, game show productions, theater sports, and more! The possibilities are endless when it comes to planning your next event!
Contact us to learn more about services and rentals for your event.