Corporate Event Planning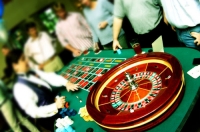 Corporate events offer direct exposure to your target audience. They reflect your company's image and qualities such as a professional, reliable, and innovative organization. So it goes without saying that your corporate events are supposed to be well planned and well executed. Keep in mind that the longer your guests will discuss the event, the better – its publicity! Clowns Unlimited has all the tools you need to help put together the perfect event.
Though event planning and delivering may seem daunting at first sight, with a little thought and training you can run and enjoy an excellent corporate event. With our equipment at your disposal we can bring any idea to life from decor to gaming, we have you covered.
Why do you undertake your corporate event?
It is necessary for you to realize why you are holding a corporate event. This should be your very first step of event planning.
Corporate events are held to:
• thank your team for an achievement
• improve relationships with existing clients
• celebrate gaining a significant client
• develop relationships with new and prospective clients
• raise the company image
• thank customers for their business
• educate and / or inform
• launch a new product or service.
When should you schedule your corporate event?
When setting your event, take into consideration what other events are planned for that day. If you are going to hold a "big corporate event", schedule it so that it starts at 5.30pm – 6.00 pm. In case you are planning to hold a seminar, consider starting it early in the morning to finish it around 10am.
Where should you hold your corporate event?
Listening to recommendations may sometimes turn out to be the best option for choosing a venue. Talk to the venue owner to discuss all your requirements. Later on, when the discussion is over, ensure to have a written agreement on your requirements between you and the venue owner to avoid all the possible further discrepancies. This will save you nerves in case something goes wrong on the night before as you may at least negotiate down the bill!
Remember the more time you spend on your event planning, the better results you will get.
Contact us to learn more about services and rentals for your event.