Holiday Cookie Recipe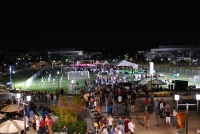 We don't clown around here at Clowns Unlimited when it comes to cookies! I wanted to share with you an easy to make childhood favorite of mine, Mini Chocolate Peanut Butter Drop Cookies.
INGREDIENTS:
1 tablespoon water
2 cups all-purpose flour
1 1/2 cups sugar
1/2 cup butter
1/2 cup peanut butter
2 eggs
1 teaspoon baking soda
1 teaspoon salt
1 1/2 teaspoons vanilla extract
6 ounces mini semisweet chocolate chips
PREPARATION:
Preheat oven to 375.
Contact us to learn more about services and rentals for your event.