Holiday Party Entertainment Ideas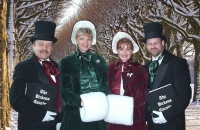 If you are planning a holiday party and you need some ideas on great entertainment or activities to keep your crowd busy then you will be glad to find Clowns Unlimited's ideas for fun at a holiday party.
Whether you are planning a holiday party, company Christmas party, neighborhood gathering, special event for a members club, or any sort of seasonal festivity- we can help. Our incredible selection of catering options, games, activities, professional event planners, and management services are the perfect addition to any special event you may find yourself planning.
Contact us to learn more about services and rentals for your event.