How to Throw the Best End-of-Summer Party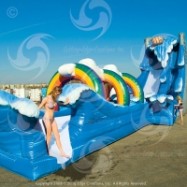 August is one of the hottest months in Washington and the last real stretch of summer before backyard BBQs and summer parties go into hibernation. Clowns Unlimited can provide you with an array of summer games and activities for your end-of-summer parties. For an amazing party everyone will remember, here is a list of some popular options:
Hamster Balls – Take a roll in the Giant Plastic Balls across any smooth surface you can fine. These are great for adults and children and are too much fun.
Xtreme Surf Combo – Enjoy the trill of surfing without getting wet; great summer time ride for parties.
Rocking Climbing Walls – With a few different options for wall sizes you can entertain an array of guests with a fun climbing challenge.
Water Balloon Wars – Bring the fun of Water Balloon Wars out to your event, with our high energy action of flying water balloons is the ultimate interactive summer fun. From our Launchers to the quick fill systems, well over 16 people can be enjoying the fun at once. This interactive game is great for company picnics or corporate events
Niagara Water Slide – Are you daring enough to float off the face of the famous Niagara Falls…protected only by a wooden barrel? Well maybe not….but you and your guests can experience the thrill of the raging waters as you take a plunge down the falls of the mighty Niagara Water Slide, then glide to safety through the river.  At 24ft Tall and over 60ft Long, this is one of the largest water slides available. Other water slide options also available.
Contact us to learn more about services and rentals for your event.