Inflatable Games and Rides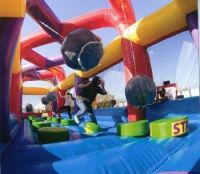 Inflatable Games are fun for all kinds of parties, special events and other gatherings which occur.
There is no end to the amount of inflatable games and interactive rides which are available for rental at Seattle parties and seattle gatherings. Our company offers a huge selection of interactives, inflatable slides, bungee games, obstacle courses, kiddie games, and all kinds of other fun inflatable rides.
People of all ages can play on inflatables- it is just a matter of deciding on the right ones for your crowd. Larger, more diverse crowds are going to require a larger, more diverse selection of inflatable games and activities. For more information on what inflatable games and activities would be the best for your group- contact us today!
Contact us to learn more about services and rentals for your event.