Inflatable Games at Your Summer Picnic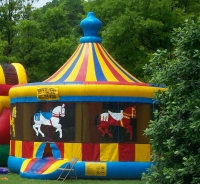 The summer picnic is a time tested and proven way to show employee appreciation. It has even longer been known as a family event which brings people together. Planning a picnic this summer for your office, or even for your family is a great way to increase morale and create some fun in the lives of the people around you.
In today's world there are a lot of stresses. Inflatable Games help people to forget the day to day stresses that keep us down. Just turning off the TV and getting outside for a picnic will hopefully do something to remove your friends, family, and colleagues from the day to day barrage the media is feeding us.
Contact us to learn more about services and rentals for your event.