Inflatable Games – Bringing In Fun!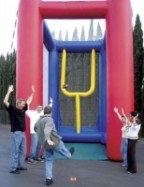 Inflatable Games are continually becoming more an more popular for people who are throwing parties and special events!
These days it is pretty uncommon to see a large event taking place without some kind of entertainment for the masses, and that is where inflatable games come in! These giant inflatable structures are the perfect activity to offer group entertainment. A good selection of inflatable activities and carnival games at your event will offer everyone in your group a fun activity.
Contact us to learn more about services and rentals for your event.