LED MultiColor Uplight Rental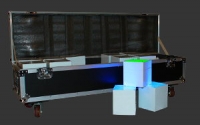 Breathe life into any event with some radical lighting. These LED Canister lights are battery powered, no wires! It makes everything easier when setting up and the lights last up to 12 hours, insuring you will have the ambiance you desire for the entire event. Create nearly any color you desire with customizable brightness and color settings. A perfect addition to any holiday or new years eve event!
Contact us to learn more about services and rentals for your event.