Party Games and Fun Rentals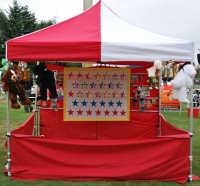 We offer all kinds of fun rentals and party solutions for special events in Seattle, Washington. Our services are available to all event planners, party planners, and special event planners in the Pacific Northwest.
No matter what type of special event you find yourself planning, you can always count on the party and event planners at Clowns Unlimited to provide you with the best event solutions, the most entertaining performers, amazing quality party tents and rental equipment, and the largest selection of inflatable games, interactive games and amazing fun rental options in the Pacific Northwest. Our event planning and event production resources are unlimited, and we are here to help you with all aspects of your special events.
Contact us to learn more about services and rentals for your event.