Photos with Santa-Seattle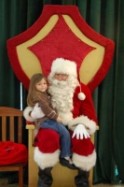 If you are looking for someone to provide a Santa Claus Program in the greater Seattle areas- we are here to help!
At Clowns Unlimited, we have been providing professional holiday entertainment packages and instant photo solutions for special events all over the The Greater Seattle Region, Eastern Washington, Idaho, and Montana for a long, long time.
We provide photo solutions for a number of different companies, cities, towns, community associations, churches, schools, fundraisers, and all kinds of special events or private parties. We are familiar with the Santa Unveiling ceremonies which can be used to start off a program and have several options to offer.
Contact us to learn more about services and rentals for your event.