Plan Ahead for Spring: Party Rentals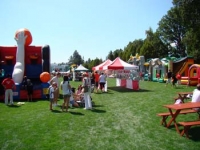 Planning ahead for that spring event can help take the bite out of the lingering days of winter. Party rentals are a great way to break out of the doldrums of winter, and booking ahead of the spring rush ensures you get first pick at the best party rentals available.
Party Rentals: Locations
Selecting a location for your event is easier with a party rental company. These party rental specialists know the inside secrets to your local party locations. They can advise you which meeting rooms are appropriate for your size of event, which locations are best suited for children and best yet, which party sites should be avoided.
Contact us to learn more about services and rentals for your event.