School Carnival Fun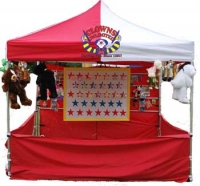 Every year school carnival planners from all over contact us looking to help them plan a carnival event for their school. We offer our services to them with nonprofit discounts to give each school the opportunity to raise funds, or to throw a huge community event that rewards the school community and breaks even.
Deciding on the goal behind your school carnival is imperative to figuring out what items to rent, inflatables to choose, and budget to work with when planning the event.
Contact us to learn more about services and rentals for your event.