Seattle Rock Wall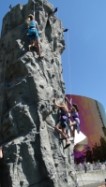 We have a fleet of Rock Climbing Walls and Mobile Climbing Systems which is available for all types of parties and special events. Kids, adults, and people of all ages love climbing on our amazing 24 foot verticle climbing walls. Each wall features four climbing stations and an auto belay system which offers a safe and fun adventure.
People love to be harnessed in and dawn a safety helmet for their climbing wall experience. For the best rock wall rentals and the best service in Seattle and the entire Pacific Northwest, you can count on us!
Contact us to learn more about services and rentals for your event.