Step Your Picnic Game Up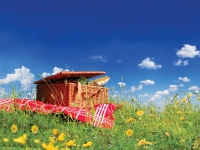 Its almost August in Seattle which means plenty of warm weather, blackberry picking and lots of picnics. This romantic and welcoming American classic is fun for company parties, family outings and reunions with friends. Here are a few cold lunch recipes that will take your typical PB&J style picnic to a whole other level.
Chipotle Turkey Pinwheels: Combine 1 Tbsp Greek yogurt, 1 tsp chipotle pepper & 1 tsp orange marmalade in a small dish, then spread the sauce down the middle of a whole-grain tortilla. Top with 3 oz deli turkey.
Fresh Rosemary Chicken Salad: Combine 1 tsp fresh rosemary, 1 Tbsp chopped onion, 1 Tbsp Greek yogurt, 1/2 tsp lemon juice & 1 Tbsp dried cranberries. Then fold in 3 oz chopped cooked chicken and 1/2 oz chopped pecans. Top 3 cups mixed greens with the chicken mixture, along with 1/2 cup halved grapes. Serve with 1 serving whole-grain crackers.
Lemon & Dill Salmon Roll-up: Mix 2 Tbsp Greek yogurt, 1/2 tsp dried dill, 1/2 clove minced garlic, 1/4 tsp black pepper, 1/2 tsp lemon juice & 1 Tbsp chopped onions together in a small bowl. Fold in 3 oz cooked salmon, then add to a whole-grain tortilla, along with 1 cup mixed greens. Roll up and serve.
Ruby-Red Beet Salad: Combine 1 cup roasted beets, 1 segmented orange & 1/4 cup sliced onions with 1 tsp red wine vinegar & 1/2 tsp olive oil. Sprinkle with tarragon, black pepper & a pinch of orange zest. Top with 1/2 oz shelled chopped pistachios and 1 oz feta cheese.
Terrific Turkey & Rice Bowl: Reheat 1/2 cup cooked brown rice and 3 oz cooked ground turkey, then top with 1 cup assorted vegetables, 1/4 cup salsa, 2 Tbsp shredded Cheddar cheese & 1 Tbsp Greek yogurt.
Peanut Butter-Banana Dog: Toast 1 whole-grain hot dog bun and spread on 2 Tbsp peanut butter. Place 1 banana in the middle and drizzle with 1/2 tsp honey and a sprinkle of cinnamon.
Contact us to learn more about services and rentals for your event.