Whirligig 2014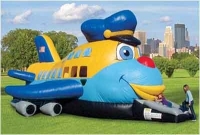 We're back at the Seattle Center for Whirligig 2014!
Dates: Friday, April 4- Sunday, April 20
Times: 11am-6pm
Seattle Center is transformed into an amazing house of BOUNCE!
Seattle Center Whirligig offers amazing amounts of fun for preteens to kiddos. Bring in the kiddos and they will hardly contain their own excitement! Amazing inflatable rides and games! Also fun walk around entertainment!!
COME AND PLAY!
Contact us to learn more about services and rentals for your event.